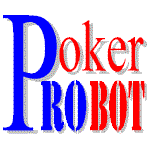 $49.99 a year.
PokerProbot™ has proven itself in competition, and is the only poker software to win $100,000 doing so.
Read all about it in the news section.

PokerProbot™ auto reads the cards while you play. It not only gives you instant odds and advice during your Texas Hold'em game, but tracks your opponents and modifies those odds to give you a more of an advantage over the other software that's available. PokerProbot™ software is a must if you play poker online. You will learn the art of knowing what hands to play from position and how best to play the hand after the flop.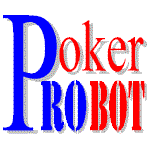 $9.99 monthly subscription. NOW AVAILABLE!
See the FAQ page for supported sites.

< Click to download now!
Working on fix for new version!!
poker robot poker tracker
poker statistics
online poker
poker bot pokerbot pokerrobot